About us
ARTvertisements is run by creative duo Barbara van Druten and Niki Koutouras.
As ARTvertisements Founder and Creative Director, Barbara graduated from the Art Academy of Maastricht and Prague in the 90's and has since developed a deep expertise in visual communication, along with her renowned design aesthetic. Niki Koutouras, Commercial Director has an international background in the fashion industry and has worked as a retail- and interior designer for companies such as Scotch and Soda, Mc Gregor Group and Supertrash.
ARTvertisements regularly engages with a community of collaborators including printing offices, light architects amongst others.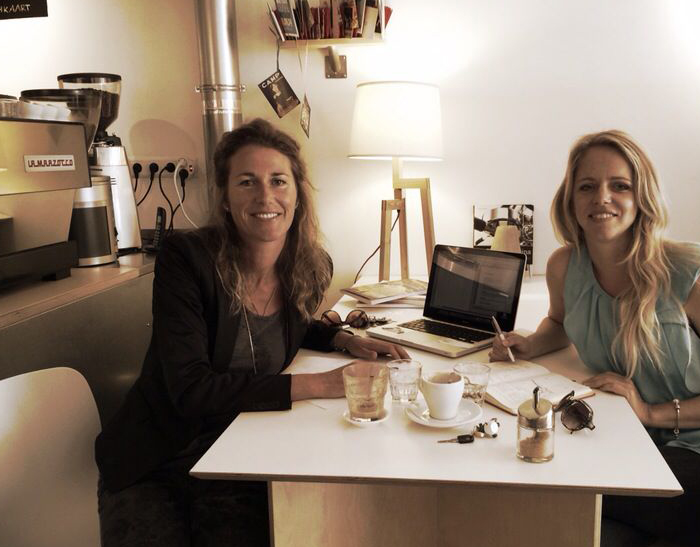 What we do
ARTvertisements help clients to market locations and optimise workplace environments with our innovative concept that synthesises art with data and content, leading to the creation of beautiful digital collages. These are used in property windows, construction site hoardings, interiors of hotels and offices, shops, school playgrounds, as well as, hospitals and public transport infrastructure e.g. cycle tunnels.
Our collages synthesise a myriad of individual images. Each image is carefully selected and edited. And subject to the requirements of the brief, integrate well-known sites, historical and educational data, buildings and landmarks, scannable QR codes and other relevant content.
Our work can be commissioned through a variety of channels: the landlord, the developer, the local council or in partnership with local retailers, public attractions or Tourist Information/City Marketing functions. However it comes into fruition, the end result is a unique and successful form of advertising.
We're passionate about making the world of our clients a more colourful place and using art as a way of engaging viewers to explore content and environments.
As well as being commissioned to create beautiful outdoor collages, we also offer specialist interior design services which include the refurbishment of interior office spaces, hotels, local government buildings and many others.
In addition to creating inspirational and functional art work, we also use our work, wherever appropriate, as a vehicle for staff engagement and creativity: using ideas and inputs from staff to stimulate engagement and ultimately co-create a place that they feel proud to live and work in.
Below some examples of former projects of Niki and Barbara. The examples shows Niki's work: the projectmanagement and design of Gaastra Sail. It shows the product lounge retail concept for Scotch&Soda: window planning SHRUNK, and the Amsterdam Couture project, involving concept, marketing, planning, etc. Besides graphic design projects, creating websites and corporate identities, Barbara created naïve illustrations for some time. She has had exhibitions abroad and published two books. 
De 5e, jubileumeditie, van de EXCELLENT Woonbeurs in Rotterdam Ahoy.
De hallen staan in het teken van luxe wonen en leven.
A selection of publications about ARTvertisements
CONTACT
ARTvertisements

+ 31 6 51 27 39 01
Unit-2
Nieuwe Energie,
3e Binnenvestgracht 23j,
2312 NR  Leiden